"Shanghai" - A Historical Video Project
Happy Lunar New Year! 30 years ago we were the first American band to perform in mainland China since the revolution. "Shanghai" is a special project commemorating that tour. 
Historical concert footage from the first Shanghai shows are in this video. Band members Joziah Longo, Sharkey McEwen and Tink Lloyd* performed as The Ancestors. 
We felt so connected to the soul of China at that moment and still do. Inviting us to perform was a cautious experiment by Chinese officials, but became a real ice-breaker between our two countries. Shortly after our successful tour, Shanghai became much more open to cultural exchange with the West. The video of "Shanghai" is a mix of new performance and historical footage. The song, "Shanghai" is a memory of those first unforgettable nights. We post this sending much love and best wishes to our family in China for the New Year. "Good Luck Everybody!" Thank you, Shanghai, China, no one can forget... Thank you, Feifei Yang, Chen Fan, and the Chinese Music Ensemble of New York (紐約中國民族樂團) for your appearance in this video. Thanks to Matthew Abourezk for puttting the footage together in such a beautiful way for this historical video. 
*(also Alistair Farrant, Brian Hardgroove, Bob Mueller)
#shanghai #lunarnewyear #worldpeace
***************
FRIDAY, DECEMBER 30TH WORLD CAFE LIVE PHILADELPHIA, Pa



New Year's Eve~Eve with The Slambovian Circus of Dreams 
Friday December 30th at 8:00 pm 
The Music Hall at World Cafe Live 
3025 Walnut Street  Philadelphia, PA 19104 
Box Office: 215.222.1400 Tues – Sat: 10am-10pm 
Tickets: https://tinyurl.com/wcl2022slams
WCL Website: worldcafelive.com 
"Like a snowball full of heart and unabashed beauty with songs of hope and resistant joy." - Jambase.com 
"Best Band 2022" - Chronogram Magazine, NY 
Descending from the snow-filled highlands of upstate New York, World Cafe Live in Philly is where the Slambovian Circus of Dreams land to celebrate the end of 2022! Performing holiday songs and rockin' tunes for a fun 'outside the box' New Year's Eve show, the band brings a sack full of holiday cheer, stories and music for everyone at this New Year's show. Highlights will include songs from their successful UK tour and A Very Unusual Head, the new album. For new fans, you'll hear traces of Dylan, Bowie, Neil Young, Leonard Cohen, Incredible String Band, Syd Barrett and The Waterboys as well as Woodstock-era psychedelia.* 
A Philadelphia native, lead singer Joziah Longo's voice is "Soothing and bewitching as a snake oil tonic," creating a meta-physical brew with long-time bandmates Tink Lloyd (accordion, cello, flute) and the guitar-slinging skills of Sharkey McEwen. 2022's touring band also includes UK rhythm section RJ McCarty on keys and sax, bassist Bob Torsello, and drummer Matthew Abourezk, creating a show that is constantly evolving "with a little help from their friends." This band of troubadours captivates and charms audiences, bringing "news from the world" that taps into a greater humanness - a perfect way to begin 2023… 
Ring in the New Year with the Slambovian Circus of Dreams!
CHRISTMAS SHOW BROADCAST - TUNE IN NEXT YEAR!!!
On Thursday, December 22nd we streamed "A VERY SLAMBOVIAN CHRISTMAS" show online. 
For those who have never seen a Christmas show, expect some traditional Christmas songs with a "Slambovian twist" and some rockin' original holiday tunes. The "Very Slambovian Christmas" show is guaranteed to "flip your switch" and spark the holiday spirit. It's definitely a fan favorite in the Slambovian calendar! 
The show aired twice - at 3:00 and 8:00 pm to accomodate our UK fans who never saw "A Very Slambovian Christmas" show...
This show was filmed in December 2020 at the Towne Crier Cafe in Beacon, NY.
TUNE IN NEXT YEAR!!!
 BOX OFFICE NOW CLOSED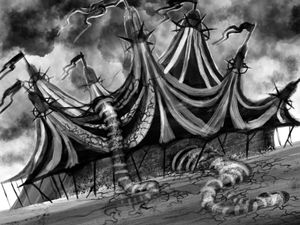 NEWS & TOUR DATES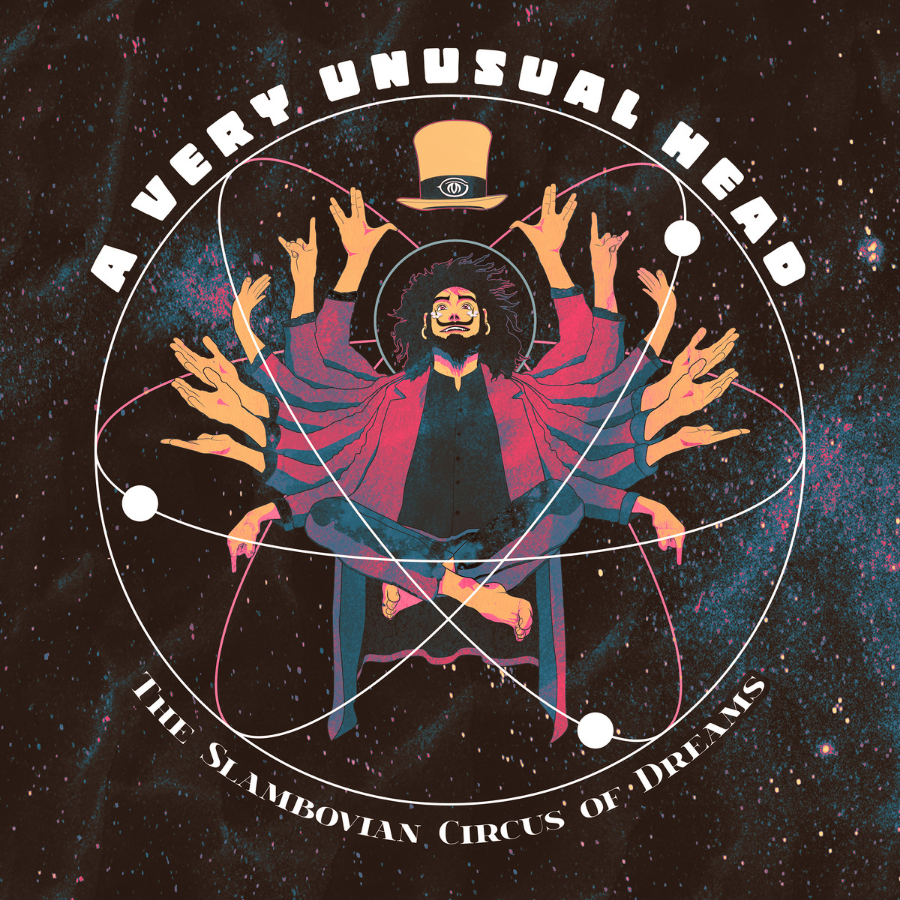 "A Very Unusual Head" Now Available - UK Tour 2022 - Talking Elephant Records
"ONE OF THE BEST ALBUMS OF 2022" - Malcomb Holmes, Talking Elephant Records

The Slambovian Circus of Dreams' long-awaited  album, A Very Unusual Head was released in January of 2022. To make it available at shows and online in the UK during the upcoming August tour, we signed a licensing deal with the cool, very eclectic Talking Elephant Records for a UK/EU release.  Hearing the album for the first time, Talking Elephant Records owner Malcomb Holmes said, "Bloody Hell what an album it is and I would love to be involved in some way". The band couldn't resist his enthusiastic offer, so thanks to Talking Elephant Records for supporting the 2022 UK Tour and welcome to Slambovia!
UK TOUR 2022
SUN  Aug 7   Wickham Festival • Wickham
MON Aug 8  Fox & Firkin • London
WED Aug 10  Trading Boundaries • Uckfield
FRI   Aug 12  Fairport's Cropredy Convention • Banbury
SUN  Aug 14  Hare 'n Hounds • Birmingham 
TUE  Aug 16 Cubley Hall • Penistone 
WED Aug 17 The Crescent • York
THU Aug 18 Black Dyke Mills • Bradford 
FRI   Aug Manchester Rugby Club • Cheshire
SAT  Aug 20 The Stables • Milton Keynes
SUN  Aug 21  Colchester Arts Centre • Colchester
________________________________________________
Long anticipated, A Very Unusual Head is an amazing collection of songs. Recorded over the last 4 years in 5 studios and 2 countries, the album is a real Slambovian tribal project with contributions from many friends and a few 'special guests'! Paying tribute to the  great 'outside the box' minds of science - "Force of Nature (Stephen Hawking's Lament)" and the arts - "Solve It All Dāli".  Lead singer/songwriter Longo also challenges accepted philosophy/theologies that have led humanity to its current state with the Python-esque song "Brilliantly Dumb", featuring an ethereal vocal performance by Dar Williams. The album's humour waylays any 'doom and gloom' with a confidence that though humanity seems to have strayed a bit from the path, we can find it again if we only "Step Outta Time" and "Look Around"!
The Band appreciates all the support of fans and friends who helped make it possible.
This 14-track album was a real labor of love by so many. Sharkey McEwen pulled it all together at the end and really 'mixed up the majick' creating a stellar audio experience for the amazing songs to shine in.
VISIT: The Slambovian Mercantile
Official  Merchandise available at our BANDCAMP store.