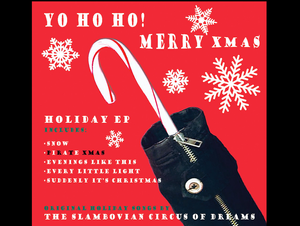 0:00/4:52

0:00/4:32

0:00/5:38

0:00/3:15

0:00/5:36
News & Tour dates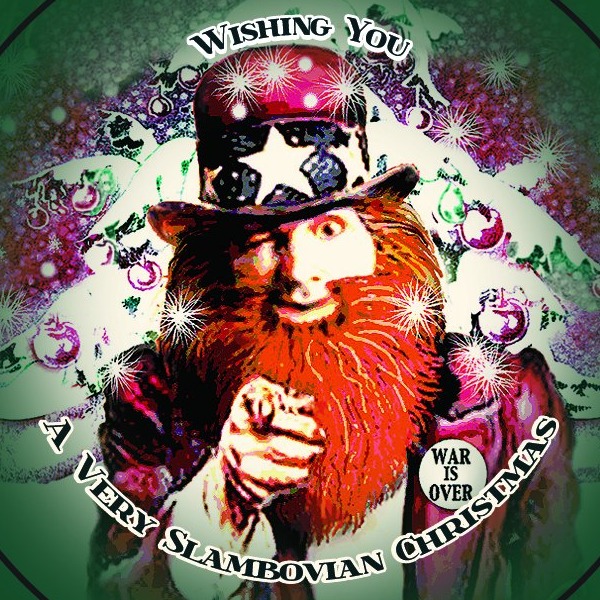 A VERY SLAMBOVIAN CHRISTMAS 2023 TOUR

Seasons Greetings Everyone,
The holidays are upon us, which means it's time for our "Very Slambovian Christmas" tour to begin!
Six shows throughout the northeast from Maine to New Jersey! This yearly tradition makes December a real high point in Slambovia, join us as we 'recharge' and get ready to ring in the New Year!
Hear our/your favorite Christmas songs with a "Slambovian twist" and rockin' original holiday tunes for a fun 'outside the box' holiday show that is guaranteed to 'flip your switch' and spark the holiday spirit! Yo ho ho, Merry Christmas!

Holiday Tour 2023 ~ The Slambovian Circus of Dreams
Friday, 12/8 - Bath, ME - The Chocolate Church. 7:30 PM. TICKETS
Saturday, 12/9 - Norfolk, CT - Infinity Hall. 8:00 PM. TICKETS
Friday, 12/15 - Amherst, MA - The Drake. 8:00 PM. TICKETS
Saturday, 12/16 -  Beacon, NY - The Towne Crier. 8:00 PM. TICKETS
Friday, 12/22 - Blairstown, NJ - Roy's Hall. 8:00 PM. TICKETS
Saturday, 12/23 - Newtown, PA - The Newtown Theatre. 8:00 PM. TICKETS
Also - don't forget our annual "New Years Eve~Eve" show on December 30th at World Cafe Live in Philadelphia! Get tickets here: TICKETS
Merchandise News - Check our ONLINE STORE next week or for some new Christmas season items! If you are craving Slambovian Christmas music, it's already up - order now! Bandcamp Friday is today (12/1) - Bandcamp waives their fee for 24 hours and gives the artist 100% of sales profits. 
Wishing you a MERRY EVERYTHING! Hope to see you this season.
•••••••••••••••••••••••••••••••••••••••••••••••••••••••••••••••
•••••••••••••••••••••••••••••••••••••••••••••••••••••••••••••••
OCTOBER SHOWS!!!
FRI OCT 20 - 7 pm
THE COOPERAGE - Honesdale, PA
An intimate evening with fans. On October 20th, 2023 see the Slambovian Circus of Dreams at The Cooperage - a cozy listening room, giving fans the chance to see them up close perform their unique blend of Americana, folk rock, and alt-country music.
SAT OCT 28 - 8 pm
The Grand Slambovian Halloween Ball
MAUCH CHUNK OPERA HOUSE
Jim Thorpe, PA
Celebrate Halloween at the historic Mauch Chunk Opera House, in the spooky  cool old mining town of Jim Thorpe, PA. on Saturday, October 28th, 8 pm. Hosted by New York's Slambovian Circus of Dreams, this Halloween show features a return of fan favorites, "Black Jack Davey & the Scurvy Dogs" and an ongoing "Rock'n Roll Seance," channeling the 'ghosts of rock' alongside the spookiest Slambovian tunes. For a perfect Halloween weekend full of adventure, Jim Thorpe also has "Ghost Walks," train rides in the misty Pocono mountains and lots of shops and restaurants all around the Opera House. Costumes welcome!
Our annual Halloween show!

•••••••••••••••••••••••••••••••••••••••••••••••••••••••••••••••
••••••••••••••••••••••••••••••••••••••••••••••••••••••••••••••• 
Greetings Slambovians here, there, and everywhere… 
Thanks to all of you who have been coming to the summer shows, with a special shout-out to Falcon Ridge festival-goers. You braved the heat and storms to create another magical experience with us this year. We felt your love and energy! 
This August/September is an unusually busy one for the band - playing here, there, and everywhere at places we haven't been in a while. So happy to be back in Vermont, western PA, and even Long Island in September! 
Check out these shows in particular: 
We'll be all over the northeast for some end-of-summer shows, gathering with friends and fans!
Wednesday August 30th, 7:30 pm
Woodbridge Wednesdays
Parker Press Park - Woodbridge, NJ  
Opener: Deni Bonet  - FREE EVENT
Saturday, September 2nd  
Highland Center for the Arts  Greensboro, VT 
Opener: Tall Travis 
We'll be in Vermont at the Highland Center for the Arts in Greensboro. This venue is in the mountains of Vermont - a great road trip! Our friends Tall Travis will open the show and even join us for a few tunes. We met Tall Travis at the Black Bear Americana Festival and immediately wanted to welcome them into the Slambovian fold as guest artists! They are free-spirited musicians who play mostly in the indie-folk/folk-punk realm. Tickets $25.00
Sunday, September 3rd  
Next Stage Arts Bandwagon Series  
Putney, VT
~ MORE SEPTEMBER SHOWS ~
Saturday, September 9th 
Colorscape Chenango Festival  Norwich, NY
FREE 
Sunday, September 10th 
Fiddle & Folk Festival
East Setauket, NY
Friday, September 22
No BS Brewing Company Octoberfest!!!
Livonia, NY
 ••••••••••••••••••••••••••••••••

Welcome "Simon Says Booking" to Our Team!  The band recently signed with Phil Simon of Simon Says Booking as our new booking agent.*  
Simon Says Booking is adding shows on a daily basis. Make sure you stay informed and FOLLOW US ON BANDSINTOWN - it's fun and easy, get alerts as new shows are listed!   
Simon Says has represented dozens of artists of many genres, including 10,000 Maniacs, Max Creek, The Skatalites, and more. We're excited to work with Phil and the new opportunities he brings to the table.  
Big thanks to The Roots Agency and Tim Drake for our many years of work together.   
*We know some of our fans and friends are talent buyers, feel free to contact Phil - he is quick to respond and fun to talk to!   
Phil - Simon Says Booking  
E: phil@simonsaysbooking.com  
P: 978 544 5110  
www.simonsaysbooking.com  
MAY 2023/PAST SHOWS
The weekend of May 12th and 13th we're celebrating Mother Earth and the environment  "Slambovian style"! 
May 12th @ The Falcon: We're taking time to remember The Falcon's founder, environmentalist Tony Falco,  who passed away recently. Also, we'll be celebrating "World Bee Day", so get your BUZZ on with us that night...  (May 20 is World Bee Day!!!) 
The Falcon show in Marlboro will feature a few "deep tracks" from the past with very special guest, saxophonist Eric Person. Eric joins us to play two of his legendary recordings, "Black for the Gold"(see video above) and "Velvet Underground." Both songs were recorded but never performed live and feature Eric on soprano sax.* 
May 13th - The Return of the Clearwater Festival!
We're performing at Earth Fair 2023 in Kingston, NY with The Clearwater Festival!
Clearwater is in charge of entertainment on the 2 stages on the waterfront in Kingston, by the Maritime Museum.
The return of the festival is highly anticipated - this is the first one since 2019! We are honored to be part of Clearwater's stage alongside these long-time festival friends:
The Mammals
Tom Chapin
Reggie Harris
David and Jacob Bernz
"Shanghai" - A Historical Video Project
Happy Lunar New Year! 30 years ago we were the first American band to perform in mainland China since the revolution. "Shanghai" is a special project commemorating that tour. 
Historical concert footage from the first Shanghai shows are in this video. Band members Joziah Longo, Sharkey McEwen and Tink Lloyd* performed as The Ancestors. 
We felt so connected to the soul of China at that moment and still do. Inviting us to perform was a cautious experiment by Chinese officials, but became a real ice-breaker between our two countries. Shortly after our successful tour, Shanghai became much more open to cultural exchange with the West. The video of "Shanghai" is a mix of new performance and historical footage. The song, "Shanghai" is a memory of those first unforgettable nights. We post this sending much love and best wishes to our family in China for the New Year. "Good Luck Everybody!" Thank you, Shanghai, China, no one can forget... Thank you, Feifei Yang, Chen Fan, and the Chinese Music Ensemble of New York (紐約中國民族樂團) for your appearance in this video. Thanks to Matthew Abourezk for puttting the footage together in such a beautiful way for this historical video. 
*(also Alistair Farrant, Brian Hardgroove, Bob Mueller)
#shanghai #lunarnewyear #worldpeace
***************
FRIDAY, DECEMBER 30TH WORLD CAFE LIVE PHILADELPHIA, Pa
New Year's Eve~Eve with The Slambovian Circus of Dreams 
Friday December 30th at 8:00 pm 
The Music Hall at World Cafe Live 
3025 Walnut Street  Philadelphia, PA 19104 
Box Office: 215.222.1400 Tues – Sat: 10am-10pm 
Tickets: https://tinyurl.com/wcl2022slams
WCL Website: worldcafelive.com 
"Like a snowball full of heart and unabashed beauty with songs of hope and resistant joy." - Jambase.com 
"Best Band 2022" - Chronogram Magazine, NY 
Descending from the snow-filled highlands of upstate New York, World Cafe Live in Philly is where the Slambovian Circus of Dreams land to celebrate the end of 2022! Performing holiday songs and rockin' tunes for a fun 'outside the box' New Year's Eve show, the band brings a sack full of holiday cheer, stories and music for everyone at this New Year's show. Highlights will include songs from their successful UK tour and A Very Unusual Head, the new album. For new fans, you'll hear traces of Dylan, Bowie, Neil Young, Leonard Cohen, Incredible String Band, Syd Barrett and The Waterboys as well as Woodstock-era psychedelia.* 
A Philadelphia native, lead singer Joziah Longo's voice is "Soothing and bewitching as a snake oil tonic," creating a meta-physical brew with long-time bandmates Tink Lloyd (accordion, cello, flute) and the guitar-slinging skills of Sharkey McEwen. 2022's touring band also includes UK rhythm section RJ McCarty on keys and sax, bassist Bob Torsello, and drummer Matthew Abourezk, creating a show that is constantly evolving "with a little help from their friends." This band of troubadours captivates and charms audiences, bringing "news from the world" that taps into a greater humanness - a perfect way to begin 2023… 
Ring in the New Year with the Slambovian Circus of Dreams!
CHRISTMAS SHOW BROADCAST - TUNE IN NEXT YEAR!!!
On Thursday, December 22nd we streamed "A VERY SLAMBOVIAN CHRISTMAS" show online. 
For those who have never seen a Christmas show, expect some traditional Christmas songs with a "Slambovian twist" and some rockin' original holiday tunes. The "Very Slambovian Christmas" show is guaranteed to "flip your switch" and spark the holiday spirit. It's definitely a fan favorite in the Slambovian calendar! 
The show aired twice - at 3:00 and 8:00 pm to accomodate our UK fans who never saw "A Very Slambovian Christmas" show...
This show was filmed in December 2020 at the Towne Crier Cafe in Beacon, NY.
TUNE IN NEXT YEAR!!!
 BOX OFFICE NOW CLOSED