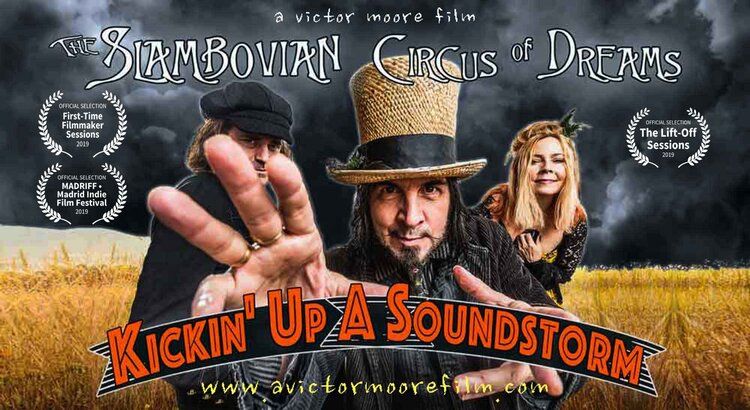 Two years in the making, "Kickin' Up a Soundstorm" is the brainchild of filmmaker Victor Moore (Showset Productions.) The film features live concert footage, interviews, and behind-the-scenes vignettes.  Shot on location in Cold Spring, NY, and Beacon NY at The Town Crier Café, there is also  extensive footage from the 2018 Falcon Ridge Folk Festival. The Immortal Jellyfish of Slambovia feature prominently in the film. Interviews with founding members of the band reveal the never heard history of the band from the beginning. The story is enhanced by fans, friends and a performance that caught the 'lightning in a bottle' – that elusive magic that comes when the audience and performers become one in a transcendent timeless moment. Welcome to Slambovia!  
We joined Victor on April 5 for a live broadcast of the film on Youtube. Great turnout – thank you! The comments section was a bonafide Slambovian reunion with the whole band there as well as fans from the US, Canada, the UK and even Italy!  
The demand has been high for a re-broadcast, so we will be gathering again on Sunday, April 19 from 3:00-5:00 Eastern Time. A number of special features have been added to these live broadcasts that aren't found in the download – including some voice-overs from each band member.  
Tune in HERE: KICKIN' UP A SOUNDSTORM LIVE BROADCAST  
Many of you asked how you could leave a tip. Please feel no obligation to do so – these are tough times for many of us. For those of you who would like to do so, you may tip in one of these sites. Proceeds will go to the filmmaker and the band.  
Venmo: @slambovia 
If you can't make the live broadcast, you can download the basic documentary here: Kickin' Up a Soundstorm Download